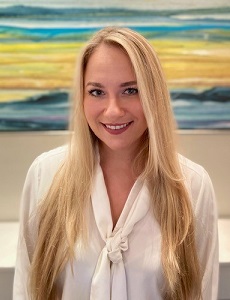 Holistic

Empathetic

Well Rounded
Psychology Resident
Naples, Bonita Springs, and Telehealth
Dr. Robin Fatovic received her bachelor's degree in psychology with a minor in Biology from Fordham University in the Bronx, New York. She then worked in radiology and neuropsychological cancer research at Memorial Sloan Kettering Cancer Center in New York City prior to earning her master's degree in psychology and doctorate degree in Clinical Psychology from Florida Institute of Technology in Melbourne, Florida.
Dr. Fatovic has experience working with individuals who struggle with depression, anxiety, mood disorders, relationship issues, grief, substance abuse, attentional issues, medical conditions, trauma, adjustment issues, and many other presenting concerns. She has experience working with couples in dating, premarital, marital, and separation counseling.
Additionally, she has experience conducting psychological assessments for children, adolescents, and adults in various capacities, including psychological testing for diagnostic clarification and treatment guidance, ADHD, intelligence and academic achievement, cognitive concerns, couples' personality compatibility, and clearance for bariatric and organ transplant surgeries. She also has experience working with criminal courts to conduct forensic evaluations of defendants' competency to stand trial.
Dr. Fatovic completed her clinical internship at the Bruce W. Carter VA Medical Center in Miami, Florida. Her work there included providing mental health services to the veteran population in a variety of settings. This work included individual therapy and group therapy, comprehensive psychological and neuropsychological assessments, pre-surgical clearance assessments, bedside therapy for physical rehabilitation, psychosocial and substance abuse rehabilitation, outreach with law enforcement, and interdisciplinary work with the Miami-Dade courts to advocate for justice-involved veterans.
– Psychological and Psychoeducation Evaluations
– Bariatric Evaluations
– Individual Counseling for Adults, Adolescents, and Children
– Couples' Counseling
– Family Counseling
– Depression
– Anxiety
– Stress Management
– Relaxation Training
– Personal Growth
– Attention-Deficit Disorder
– Behavioral Problems
– Self-Esteem Problems
– Addiction
– Eating Disorders
– Body Image Concerns
– Trauma
– Managing chronic medical conditions
– Adjustment Concerns (relationships, break-ups, grief, etc.)
– Making lifestyle changes
– Sleep Issues

What do you specialize in or focus on in mental health treatment?
As each person is unique and complex, I first gather comprehensive background information to better understand a person's childhood, family dynamics, relationships, significant life events, and medical history and discuss how this history may relate to a person's current behavioral or symptomatic concerns. I often share my knowledge on the mind-body connection to explain why certain thought patterns or symptoms arise while teaching skills to manage unhelpful physical reactions, thoughts, behaviors, or habits. My approach to therapy also tends to focus on one's humanness and personal values; when creating meaning around behavioral changes in service of these values, one can feel more motivated to change, process past difficulties, and live a more fulfilled life all around. As mental flexibility is often a topic of discussion in therapy, I practice it by tailoring treatment to the client's needs and personality style. I have experience working with a wide range of clients, including children, adolescents, adults, couples, families, veterans, first responders, and justice-involved individuals. I also worked in a variety of settings, including private practice, primary care, hospital, student counseling center, crisis center, court, and jail settings.
My training also specialized in psychological assessment. I conduct psychological testing and evaluation services for a variety of referrals, including diagnostic clarification, pre-surgical clearance, attentional concerns, academic difficulties, or academically gifted assessment. After conducting these thorough assessments, I provide feedback with recommendations to compensate for the concerns, treat the issues, or provide appropriate referrals. Personality testing can also be beneficial in therapy; results can help with diagnosis, building personal insight, and guiding treatment!
What do you do in your free time?
During my free time, I enjoy being with my family, biking, hiking, going to the beach, traveling, watching horror movies, and spending time with my pets!
Check Out Robin's Introduction Video!