239-289-9796
.
Your First Stop for First Responders

EAP Services
Counseling Associates of America proudly participates in the Employee Assistance Program for several local first responder agencies including but not limited to:
– Collier County Sheriff Department
– North Collier Fire and Rescue
– City of Marco Island Fire Rescue Department
Services Specifically for First Responders
– Couples/Family
– Trauma/PTSD
– Processing Critical Incidents
– 1st Responder Grieving
– Conflict Resolution/Communication
Treatments
Along with the extensive list of services we provide, we also offer specific therapy treatments and techniques that are specialized for the treatment of traumas, family problems, and career challenges. The Counseling Associates of America offers an array of post critical incident treatments, along with accumulative trauma exposure treatments, that keep the first responder's uniqueness in mind. Some of these services include the following:
– Desensitization Therapy
– Cognitive Behavior Therapy
– EMDR – Eye Movement Desensitization and Reprocessing
– VRT – Virtual Reality Therapy
– First Responder specific grieving techniques
– Canine Therapy
– Grounding and Relaxation Techniques
– Work Place Communication and Conflict Resolution Techniques
– SIT- Stress Innoculation Therapy
– TFT/EFT – Thought Field Therapy and Emotional Freedom Techniques
– Bilateral Stimulation Therapy
– And other specific treatment modalities
.
Self Pay Discount of $150 for all First Responders and Family Members
.
Practicing Mindfulness in Therapy
.
Education
Adrenal Fatigue is a common problem that particularly affects first responders due to the constant high level of arousal they experience in their work. What to look for: increase in general fatigue, salt cravings, carb cravings, unexplained hair loss, "brain fog", poor sleep, unexplained dizziness or lightheadedness, dark eye circles, weight gain, and energy crashes. AF is very common and typically easily treated.
Post Critical Incident Cognitive Distortions are also normal and extremely common. Cognitive thought distortions often affect a large portion of first responders, and are a normal response to experiencing events which are abnormal for most individuals (who are not first responders). Every first responder will experience them slightly differently. The majority of the time they can be worked through, and life will return to normal. However, they can also create significant distress for the first responder. Therapy can substantially help with processing and coping with such cognitive distortions.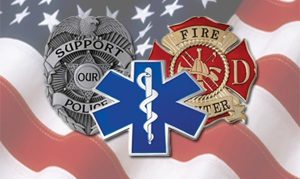 Grounding Techniques